John E. Chance II Memorial Library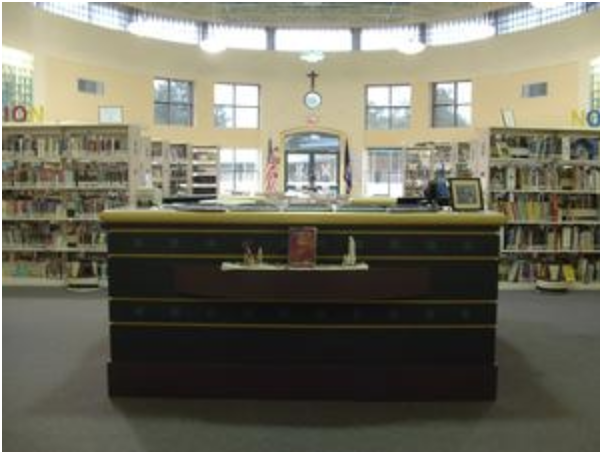 The John E. Chance II Memorial Library was designed by Kevin J. Gossen in 1998. The library's design is symbolic of a mother nuturing her child.
Mrs. Joretta Chance has said this of the Library, "When I enter the Library at Our Lady of Fatima I am surrounded with a space that is filled with light, shape and color. This backdrop acts as a serene gathering spot for our youth to learn and absorb knowledge and Christian values, which I believe is our future. The library is also a space that I continue to enjoy to visit, for it is a connection to my son, John."
Mission and Goals:
The library is a dynamic environment that provides a broad range of learning services and media resources to the children and patrons of Our Lady of Fatima School and community. The mission yields a true love of reading while integrating quality learning with classroom curriculum.
Librarians
Librarian: Erin Soignier
The librarians are certified librarians and teachers who partner with the technology and curriculum departments to fulfill the mission of the library and school.
Library Hours
7:30am - 3:00pm
Students in 2nd-8th grade are welcome to come in any time during the school-day with a library pass given by their teacher.
If there is a scheduled class in the library, students with a library pass can still return or check out books with the help of the Librarian or Librarian Assistant at the circulation desk.
Morning & Lunch Recess
Morning - Students may come in with or without a parent.
Little Recess - CLOSED
Big Recess - 2nd - 5th - with pass from teacher
6th - 8th - Students coming in with MacBooks MUST sit at the center tables if using their computer to do work.
Class Schedules
Pre-K students visit the library for 20 minutes once a week
K-5th grade students receive 50 minute bi-weekly instruction designated as Schedule A and B. Additional flexible scheduling is available as needed.
6th-8th grade students are on a flexible schedule. They use the library independently or when scheduled by a teacher of librarian in 50 minute intervals.
DEC students are included in regular library lessons.
Checkout Policy
Pre-K, Kindergarten & 1st Grade Classes
Pre-Kindergarten students are able to check out 1 library book from the Everybody Room during their library visit. Their books are due back the following library visit. Pre-Kindergarten and Kindergarten books remain at school in their classroom. First grade students are allowed to take their library books home and are to remain in their booksacks when not being read.
2nd - 8th Grade
Second - Eighth Grade students are able to check out up to 2 library books from both the Everybody Room and the Big Library. Their books are loaned out for a period of two weeks from the date of checkout and can be renewed if needed.
Overdue/Lost Book Policy
Materials become overdue 2 weeks and 1 day from the date of checkout.
There are no $ fines for overdue books, but students will not be allowed to have more than 2 items loaned out at any time, including the missing item unless a signed note is turned into the library.
Missing/Lost Books
A signed note, by the parents, expressing their knowledge of the missing book must be turned into the library for checkout privileges to be restored.
If the book is not returned to the library by April/May, lost notices will be sent out and the student/parent's FACTS account will be charged the total replacement cost of the book before the end of the school year.
Damaged Books Policy
Students are responsible for damages to library materials which occur during the time the materials are checked out to them.
Such damage includes water/liquid damage, marking or drawing on the pages, torn and/or torn out pages, teeth marks, broken covers/spines, and any other damage caused while the book is checked out to the student.
If the book can be repaired adequately enough that it can stay in circulation, there is no charge.
If the book is damaged to the extent that it can no longer be used, the student/parent's FACTS account will be charged the same amount as if it were lost – Total Replacement Cost.
Students are responsible for any damages to any book that is checked out to them whether or not they actually caused the damage themselves.
The full replacement cost will be charged promptly for all books that are damaged beyond repair.