Yearbook Signing
Fatima graduates who are now in 9th grade attended a Yearbook Signing Pizza Party hosted by the Alumni Association and Yearbook Department. Students came from many local high schools to visit with old friends and leave their mark on their classmates' yearbook. Great memories!
Tailgating for the Fatima versus Cathedral Game
Every year in October, Fatima and Cathedral come together for the spirited football game held at STM. All Alumni are invited to attend the tailgating events.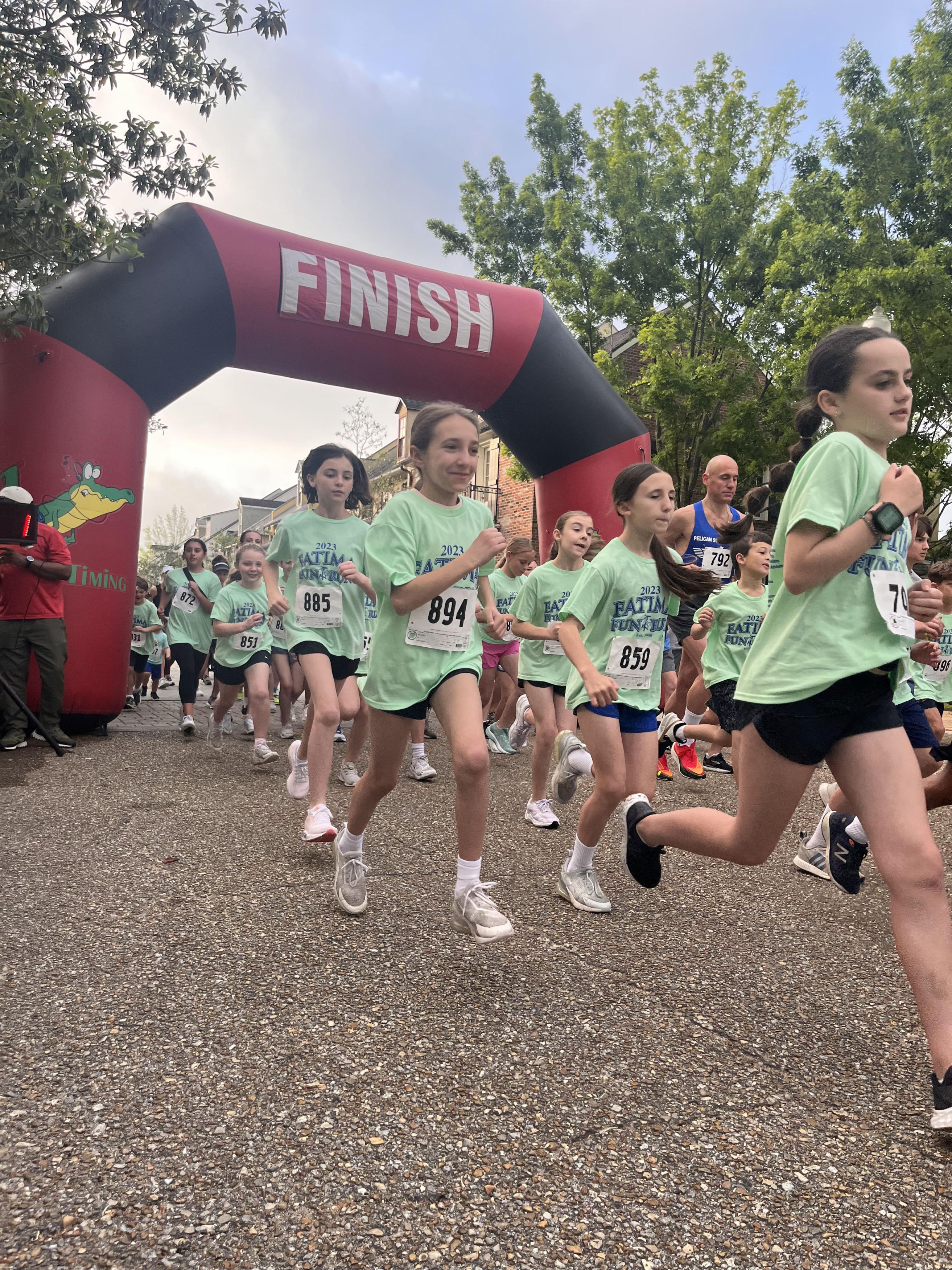 Fatima Fun Run
The annual Fatima Fun Run is a family fun event held in the Spring that includes runners and walkers from the Fatima and local community. Funds raised from the race go to the Alumni Scholarship Fund to help OLF graduates with their child's Fatima tuition. Over 250 people signed up and $17,000 was raised in sponsorships. Thanks to the following for their sponsorships and continued support of OLF:
Platinum Sponsors
Draft Guys
Marc & Michelle Judice
Synergy
Joseph & Swan
Trinity
McGill
Louisiana Orthopaedic Specialities
Slap Ya Mama
Therapy Center of Acadiana
Gold Sponsors
Classic Business Products
Darnall, Sikes & Frederick
(A Corporation of Certified Public Accountants)
Just Print It
Justin & Andrea Norris
Lafayette Pediatrics
Phoenix Offshore Solutions
Serenity MedAesthetics
Speech Language Specialists
Summit Financial Wealth Advisors
Blue Sponsors
AAA Factory Direct Blinds & Shutters
Budget Blinds of Lafayette
Coin & Treasure
Darnall Sikes Wealth Partners LLC
Discovery Land Group
Domingue, Szabo & Associates, Inc.
Douglas Title
Grayson Carter Design by Brianne Jenkins
Heggie Investment Partners
HUB International
Hunco Real Estate
Judice Inn
NEI
Olde Tyme Grocery
Sandra's Cafe' & Health Food Store
Plonsky & Escott, Inc.
Quality Plus Insurance
Southern Fete
The Moore Group
The Orchard Stores
Friends
Albertson's
Coke
Red's
Sofas and Chairs