In 2010, the Our Lady of Fatima Catholic School Alumni Association established the
Distinguished Warrior Award to honor a former student or faculty member who
represents the ideals of Our Lady of Fatima Catholic School and who have made a
difference in our community by their contributions pertaining to the school's mission
and vision. The Distinguished Warrior Award recognizes alumni who embody the
spirit of Our Lady of Fatima Catholic School. These alumni exemplify the values OLF
strives to instill in each student and personify one or more of the following: service to
their community, distinction in professional life, involvement in school and parish,
and/or inspiring others as positive role models.
2023 Distinguished Warrior
Steve and Sandra Moore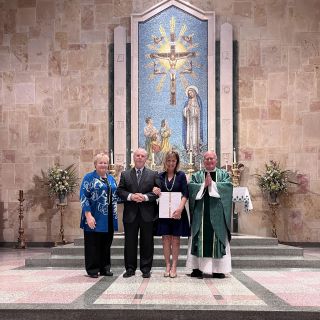 The Fatima Alumni Council is pleased to present the Distinguished Warrior Award to Mr. & Mrs. Steve Moore.
Sandra Judice Moore is a 1975 graduate of Our Lady of Fatima High School. Sandra was born and raised in Lafayette and she, as well as her other 6 siblings, attended and graduated from Fatima High School. Both she and Steve graduated from USL. Their son Jordan attended Fatima and they both were involved in Fatima school while he attended. Sandra serves on the Fatima School Alumni Council as Treasurer and is a past President. Sandra and Steve are very involved in the parish. She continues to be a Church Eucharistic Minister and Lector. He is a Eucharistic Minister, Head Usher and Sacristan. They are both active in the community. Sandra has served as a Member of the UL Alumni Council, UL Board of Directors, and an avid fan and season ticket holder for UL Football, Basketball, Baseball and Softball. Steve was a member of the Diocesan Regional Council, a member and current Deputy Grand Knight of Our Lady of Fatima 3470 Knights of Columbus organization. Sandra and Steve are serving on the Our Lady of Fatima Vitality Committee for the future planning of our parish. Sandra is employed at Our Lady of Fatima School as the Tuition Manager and Steve is the owner of the Moore Group. Both of them are dedicated parishioners and true warriors. Thank you for keeping the Fatima spirit alive. Congratulations Sandra and Steve and we thank you for all that you do for Our Lady of Fatima!
Nominate an Alum
The following criteria has been established for this honor:
* A former Fatima student or Faculty member, living or deceased, who represents the ideals of Our Lady of Fatima School
* Someone who has made a contribution to the Fatima community
* Someone who made meaningful contributions in their chosen profession
Nominations:
Must be made by an OLF alum, current or former faculty member, an administrator or staff, or current or former parent.
All nominations must be made on an official nomination form, which can be found below.
2024 Nomination Form

Past recipients of the Distinguished Warrior Award are:
2010 Paula Lagneaux Gibbens, class of 1961
2011 Sr. Nira, Deanna Fouin, Carol Moody & Yvonne Jumonville, former Fatima faculty
2012 Kay Karre' Gautreaux, class of 1980
2013 Debbie Guilbeau Guidroz, class of 1982
2014 Dan Blum, class of 1960
2015 Liz Cantrelle Miller, class of 1982
2016 All Alumni
2017 Thomas Chance, class of 1977
2018 The Stoma Family
2019 Patti Mouton Judice, class of 1972 and Barbara Pharis, Fatima faculty
2020 Doris Regan Tatford, class of 1974 and Lee Tatford
2021 Rickey Broussard, former Assistant Principal and Basketball Coach
2022 Loney Hebert, class of 1972
2023 Sandra Judice Moore, class of 1975 and Steve Moore